Here's an excellent video from SEIU that's just a little longer than the average call to the Pasadena MRC, and explains why call centers are innovative, exciting, and a good way to stop members whining all the time.Mike Fishman
, President of 32BJ says "forget about what we have now" (no thanks Mike), and talks about restructuring to "match what's happening in the industry".
An unnamed rep who describes being initially skeptical, but now just looks resigned, says that working at the call center lets him focus on just one aspect of his previous job.
"When you're comfortable knowing what's expected of you, it helps you deliver a better product to the members"
. The call centers seem like happy places, where staff are permitted to keep a small selection of approved personal items at their workstations.
Everyone is very enthusiastic and the video features several brand new banners. The New York call center is described in a way that sounds like it's open 24 hours, but listening closely, it's actually that you can call 24 hours, leave a message and someone will get back to you. The Pasadena center is open 8am to 4pm, but hopes to expand hours to 7am to 7pm, and then to 24 hours a day!
And here's
Annelle Grajeda
(who Perez has missed the past few months) explaining how Local 721 doesn't "want to die as a union because of the same old problems". Problems like corruption perhaps? Annelle wants time to be "more creative" and to "partner with our employers". She hopes the new call center will take 721 "that last step" to having a strong organizing culture.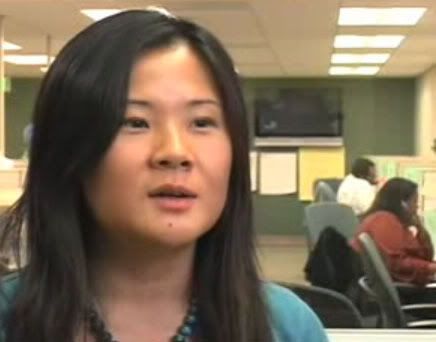 You get to see the Pasadena call center operated by 721 where
Jonathan Chow tried to find someone to talk to
, and where call center staff try to help members from merged locals across the whole of California (and that's a source of pride). In one shot (left) you can see the big screen Perez previously mentioned, but not what it says. Perhaps it was off that day?
Enjoy. Maybe you can watch it while you're on hold!



Update and clarification sent by a reader:
The call center in Pasadena at (877) 721 4YOU doesn't take calls from UHW members. Only public sector members.
If you are a UHW member you will be asked to call (323) 888 8471 and will them be transferred to (866) 660 5253 which is out of the Ferguson (Commerce/Los Angeles) office. There you will encounter one of 6-10 pleasant scab operators like the lovely SEIU lost timer on vacation from Washington who surely "believes in what I am doing" and assures UHW members that they will one day "get to vote on things."
If you have a workplace issue such as a grievance, or you're just scared of Caroline Gilkey, your concerns will be entered onto an intake form which will then be sent, via trained falcon, to a representative.