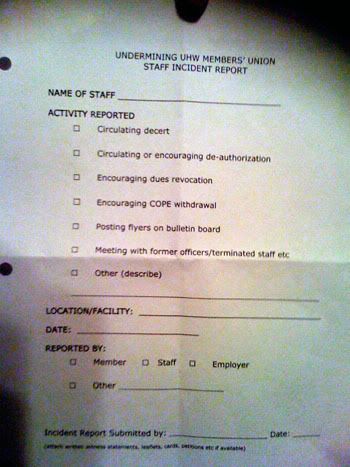 You might be forgiven for thinking it's an "UNDERMINING UHW MEMBERS' UNION STAFF INCIDENT REPORT", but it's actually yet more evidence of the crazy parallel universe SEIU now inhabits. This form is so amazing it should probably have its own blog.
This document comes from an imaginary world where the staff are the union, and their job is to protect the union from members. Perez is unclear who this form is to report (current staff? members?), but it's encouraging that the things listed are happening often enough that SEIU needs a form for them! Mind you, SEIU seem to think they're running a for-profit high school swarming with overzealous hall monitors - pay COPE or you might get a demerit from
Flannery Hauck
- so they probably have a form for everything.
And last but not least, look carefully at the check boxes. SEIU are now accepting "INCIDENT REPORTS" from bosses! Does it get any weirder or any worse? Is it even legal?
Well you guys better make sure you have sharp Number 2 pencils at the ready, Perez thinks you're going to have some less-fun forms to fill out soon!
(Note: Perez thinks the unintelligible line at the bottom says "Attach written witness statements, leaflets, cards, petitions, etc if available")