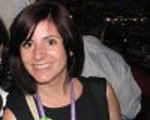 Looks like SEIU's
Michelle Ringuette
is running around with her purple mop and bucket again. In emails to bloggers, Michelle says that SEIU is "not funding" and "not behind" the media campaign that
Steve Rosenthal
is running on
Bruce Raynor
's behalf.
However, SEIU do "have some organizers on the ground in Pennsylvania to defend some of the bargaining units there from attacks from HERE" - specifically to defend SWU (a joint enterprise between UNITE HERE and SEIU) from decert campaigns. Michelle says they're just there to "maintain the status quo."
"We're just totally helping defend and not attacking in any way," she said.
Perez isn't sure how that squares with SEIU staff helping UNITE out at disaffiliation votes over the weekend, and he also isn't sure when SWU started "organizing" hotel workers as well as food and multi services, or when SWU had anything at all to do with the hotels where SEIU staff were seen with petitions, or when workers at those hotels (which have current contracts) started trying to decertify.
Oh yes, and reports say that the SEIU staff are circulating a petition for workers to leave UNITE HERE and join SEIU.
Keep mopping Michelle!