UUR (International organizers and some other staff) are picketing SEIU's DC HQ today to protest the layoffs!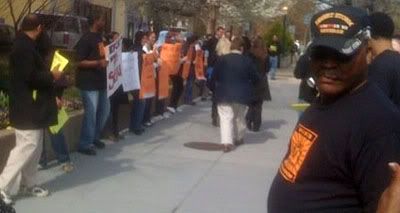 And
here's a video
, unfortunately via some asshole from the union busting "Center for Union Facts".
A report from the Associated Press says:
Dozens of employees of the Service Employees International Union are picketing their own union over its decision to lay off about 75 workers.

The staffers marched outside SEIU headquarters in Washington chanting, "Justice for all, not just some."

The Union of Union Representatives, which represents SEIU organizers and field staff, has filed unfair labor practice charges and age and race discrimination claims against the union.

SEIU spokeswoman Michelle Ringuette calls the complaints meritless and says the layoffs were made because the union is shifting organizing work away from its national office to local unions.

She calls the protest "a sign of a thriving Democratic movement" and says the union hopes to work out the dispute.