If you've pissed off a long enough list of people, when you need a friend you find yourself looking back at the start of the list!
Who isn't Andy Stern fighting at this point? AFSCME, CNA, EAA, NUHW, UNITE HERE, FMPR, his own union staff... Here's just some of what he's saddled SEIU with, courtesy of a UNITE HERE document released yesterday.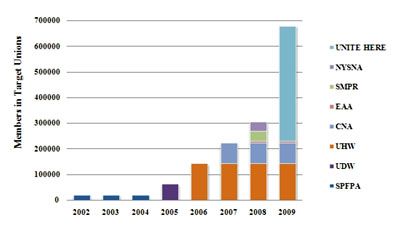 Who can handle that many losing battles at once?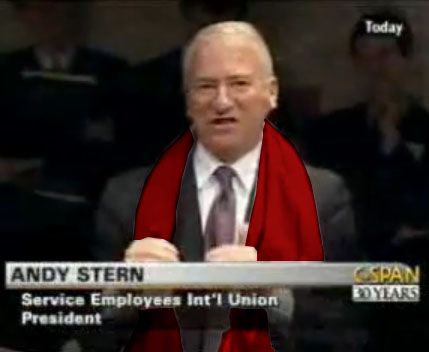 So news started to come out Thursday that Stern had managed to cross one front off that list (for now). SEIU and CNA have come to some sort of a truce, the main point of which is that CNA get to be the national RN union. SEIU also agree to give CNA's healthcare plan some limited support, and CNA agree to stop raiding SEIU.
It's got to sting, but it makes sense. You have to have a friend, even if they said mean things about you yesterday, and you know they're just using you. But after years of violent opposition, it'll be interesting to see how this actually pans out. Old habits die hard - CNA like to speak their minds, and Andy must already have the sweet smell of new members in his nostrils. Perez bets he's just like a vampire struggling to pretend he's human long enough to lure CNA to a dark place!
There's plenty of history and tension between staff and members too - we'll leave
Alex "Krooked" Espinoza's comments
out of this, but Perez did hear that SEIU 121RN members aren't too thrilled about the trade, and are (in the words of one staffer) "flipping out".
Kirk Adams
sounded pretty cautious introducing the deal to International healthcare division staff too. He's probably wondering how they feel about being pushed into physical confrontations with CNA staff and told Rose Ann DeMoro was the devil, now it seems it's all so easy for the bosses to work it out.
Oh, and while SEIU will doubtless make a big deal of the clause that stops CNA from giving money or staff to help NUHW, there's of course nothing in there that can stop the real workplace solidarity between nurses and other healthcare workers that's helping NUHW activists build their union, and kick SEIU out!