Irma Martinez, Kaiser steward and contract specialist, had a wild and crazy ride on the SEIU Confusion and Intimidation train over the last few days...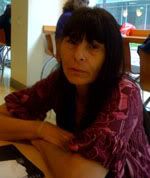 First, she got a call from SEIU scab
Linda Erickson
(left), who recently gave up her job at Kaiser South San Francisco to join SEIU. Linda gave Irma the loyalty ultimatum - "Either you're with me or you're against me". Irma said she was "for her members." Linda said "You sound like a real rebel, I'm processing paperwork," (presumably the famous SEIU steward removal letter). "Do what you have to do" sighed Irma, and she hung up on scab Linda.
Then the fun began!
Over the weekend, Irma got her letter removing her as a shop steward and contract specialist. Kaiser HR did their part too, scampering to Irma's office first thing Monday morning to tell her to pack her bags and get out.
Then on Monday night, Irma got another call from Linda asking her to go to a few meetings the next day. "But you removed me as a shop steward," pointed out Irma. "Huh?" said Linda, the confused scab, "No, I told
Greg
(Moron, the equally confused Kaiser Coordinator) NOT to remove you!"
"Too bad," said Irma, "I've been removed. You're going to have to go to your own meetings!"
And that's the catch for SEIU! Having removed all the member leaders from their official union positions, the scabs are finding that being a union rep is actually hard work. Scabs
Joan Greco
and
Ken Krause
, both famous UHW-wide for doing very little work in the old days, are now running all over the place trying to attend meetings!