Perez heard an unconfirmed rumor today that the UNITE leadership just said their final "fuck you" and jumped off the cliff and into bed with Andy Stern.
Background here.
The rumor is that SEIU and UNITE have created a new entity they're calling "Workers United", and that UNITE staff resigned en masse today to get on the payroll of W.U., which is funded by SEIU.
Would sure explain the existence, the design, and the content of this...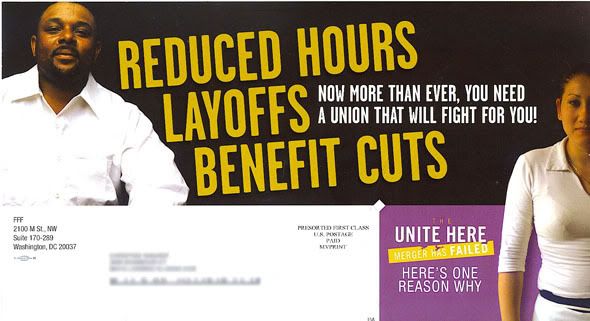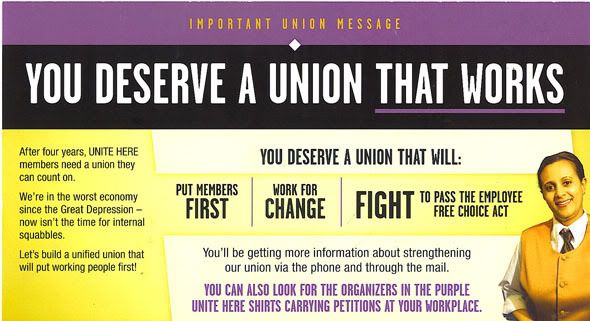 Perez agrees that you should always be on the look out for organizers in purple shirts at your workplace, especially organizers with mysterious unspecified petitions.
His recommendation is that you kick them right back out.
Edited to add the following press release from UNITE HERE:
--------
FOR IMMEDIATE RELEASE
March 8, 2009
Contact: Pilar Weiss, UNITE HERE International Union
(702) 610-0200, pweiss@culinaryunion226.org
Statement by John Wilhelm, UNITE HERE President – Hospitality Division, on Joint Board Actions.
A splinter group representing less than one-third of UNITE HERE members is proposing to secede from UNITE HERE, in violation of the Union's democratically adopted Constitution. The splinter group's actions are based on the votes of fewer than 1,000 "delegates'" some of whom were appointed to their positions rather than elected, and many of whom are paid staff members, not rank and file workers. To cite one example, in the Philadelphia Joint Board meeting yesterday, 14 of the 21 delegates were paid staff members of the Joint Board.
More than two-thirds of the members of UNITE HERE are not part of this divisive move.
Significantly, at least two Joint Boards from the former UNITE did not participate in this charade, and several Local Unions that are part of Joint Boards oppose the secession move, refuse to be part of it, and are not represented by the Joint Board vote to secede.
UNITE HERE's Constitution provides a democratic process for resolving issues, through the Union's democratically elected General Executive Board, and its Convention scheduled for summer 2009.
Bruce Raynor
fears the democratic process established by our Constitution, so he has led a splinter group into this undemocratic power grab.
This secession faction is backed by an unprecedented campaign of intimidation and harassment of UNITE HERE members, orchestrated by the Service Employees International Union (SEIU) and its political consultant,
Steve Rosenthal
. This campaign includes:
-a barrage of phone calls to members' homes, peddling lies and half-truths. When members ask who is making these calls, they hang up.
-mud-slinging mailers to members' homes worth of anti-union corporations like Wal-Mart and Cintas.
-SEIU staff invading UNITE HERE workplaces and pressuring workers.
We will not allow for undemocratic attempts to takeover or split our Union. Instead, we will restore a democratic Union, a Union that fights for strong standards for our current members and a Union that fights to organize workers across North America.
UNITE HERE is an International Union of 440,000 members in the US and Canada representing hotel, restaurant, gaming, laundry, apparel and textile workers.