Report from a reader in Fresno...
"Mary Padilla, Connie Lara, and Irene Lopez, all dues-paying members of UHW (and proud members of the NUHW Fresno County homecare Organizing Committee), visited the occupied Fresno UHW office on 11 March 2009 after they were called repeatedly and invited to attend the meeting taking place at 5:30 that evening. Once they signed in and took their seats, they were welcomed by SEIU staffer
Rebecca Malberg
— who's in town from Massachusetts, according to word on the street — and given stickers that read "I Love UHW."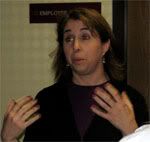 After
Ben Tracey
addressed the 10 or so Fresno County homecare workers and the various ULTCW members that SEIU has bussed in to Fresno to make their meetings appear to be well-attended, Rebecca (left) began taking questions from members and flipcharting them, including one from Mary ("Is it truth or rumor that SEIU is trying to separate homecare workers from hospital workers?") and one from Connie ("How much money has it cost for you to be here along with Ben and all the other homecare workers that you have been bringing in from Los Angeles and housing and feeding?")
Finally, because no one had asked about it, Rebecca took it upon herself to add one final question to the list: "What about the other union?" She then began answering some of the questions, coincidentally skipping Mary's and Connie's, before moving on the her final question. Her description of NUHW reportedly contained the following phrase, more or less: "They have nothing, they're alone, they have no members."
At this point, Connie raised her hand, but Rebecca ignored it and moved on. Connie finally stood up, because Rebecca clearly wasn't going to call on her, and turned to her union brothers and sisters (putting her back to Rebecca), and asked "I want to know how many of you homecare providers are from Fresno." About 10 raised their hands. Rebecca remained silent as Connie continued, "I want you to know that you're all being lied to, that they have taken over our union."
According to Connie, "That's when I could see Tope [
Tope Adewusi
, born-again SEIU staffer and reportedly something of a lapdoggish, purse-carrying chauffeur to Rebecca] running down the hallway toward the meeting room. He came right up to me, right next to me, and shouted, She has no right to be here! She's from the other union! She wants to take over the meeting! And I told him, All I want to do is tell them the truth, let them know what's going on, but he was yelling so loud that some of the other members in the room started saying, Let her talk, let her talk."
When Connie could get a word in, she told her union brothers and sisters, "I want you all to remember this. There's a reason why he won't let me talk."
Tope resumed his yelling and, at one point, even yelled "You shut up! We don't come and disturb your meetings!" when Connie tried to speak. He even pounded a nearby table with his fist repeatedly. According to Connie, "He was right next to me, and I honestly thought he was going to hit me, he was that mad. I felt so abused."
To top off this disgusting display of union tyranny, a number of the ULTCW members in the room began clapping and chanting Get out, get out, get out to Connie et al.
"That's when Irene and Mary stood up and stood next to me," Connie says, "and the three of us were standing in the front of the room as the room chanted Get out, Get out. Irene said to me, Connie, I think we'd better leave."
Tope continued yelling, even as the ULTCW members chanted.
The poetic justice to the whole affair is that, as Connie et al left, three of the Fresno homecare workers in the room grabbed Connie and asked for her number so that they could get more information about NUHW later. So, SEIU, the moral of the story is that you can kick Connie out of the office that her dues dollars help pay for, but you can't stop her from organizing!
On their way out,
Annie Durazo
, also a born-again SEIU staffer, grabbed Connie by her sleeve and initiated the following delightful exchange:
A: Connie, they're lying to you.
C: Who's lying to me?
A: They're all lying to you.
C: Who's all? The only one I know who is lying is you.
Looks like Annie might have lost her credibility with the workers!
Another woman, maybe a member, spoke to Mary on the way out as well. To her credit, she tried to encourage Mary to stay, saying that she is still a member of UHW. Mary, referring to Tope, coolly responded, "Not with that loud-mouth in there."
The next day, Connie, Mary, and Irene returned with around 50 of their fellow NUHW homecare workers to remind SEIU just whose union this is.
The SEIU staffers locked the doors and refused to come out, so the homecare workers left them a few messages, as pictured here. SEIU also summoned the police, who made NUHW remove the notes. Folks then simply taped them to their chests and continued marching outside the office. Welcome to Fresno, SEIU!"