Take part in the the first ever Perez Stern Scab Census, and help count the SEIU scabs sent to attack our unions!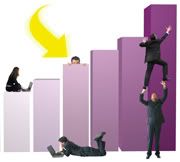 How many are there? Where are they? What are they doing?
The census is to find out about scabs on SEIU's payroll, whether they're UHW staff, SEIU staff from out of state, or lost-timers. It's for paid union busters only, so if you're a member and work with someone who supports SEIU or is helping them without financial reward, consider yourself lucky to have spotted this rare creature, but don't include them in the survey.
And the census isn't just for Californiraq, if you're a member or organizer fighting the SEIUNITE raids, or any other Stern union busting anywhere in the country, the census is for you too.
The online survey is a simple form that should take about 10 minutes to fill out. It's anonymous unless you choose to give an email address.
Click here to take part in the census
You have until Friday, but do it now!