Looks like SEIU put together a little CHW crack team last week, shame it didn't work!
Perez has gotten several emails about SEIU meetings at CHW hospitals in Southern California, it's always the same scab gang, and it always ends the same way. Here are a couple of those reports...
"We were holding an informational picket vote at Saint Mary's Long Beach last Thursday to protest CHW continuing to negotiate with SEIU. We had great turn out and the picket vote passed overwhelmingly. At the same time, SEIU scab
Carolyne Gilkey
and her handler
Gerri Harris
(left, trying to organize at SMMC) held a general membership meeting to discuss the open issues in the contract and bargaining (according to their flyer). The big shock is all the SEIU Heavyweights that showed up to talk to workers. In attendance were:
Hal Ruddick
,
Flannery Hauck (480 862 0112)
,
Bobby De La Cruz Jr (213 479 1864)
, as well as another woman that no one recognized, maybe with the first name
Sandra
. Looking quite like corporate hacks, all were wearing new SEIU-UHW badges with their pictures, names and titles on, all in color. Great to see member dues dollars going to make the scabs look more like bosses.
So here's the scoop. The meeting room where SEIU was (below) can be compared to a dark desolate country road where the only people you see all day are the people with you and an occasional tumbleweed. The workers at SMMC treated that conference room like a ghost house and no one dared even get close to it. All was quiet until two of the SMMC stwards went to the meeting to find out exactly what was going on and really to give SEIU a piece of their minds. I was not present during this encounter but i can tell you that Hal and Flannery could not answer any questions, nor respond to any concerns.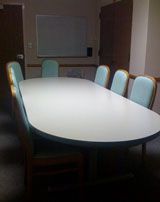 When confronted with their conflicting statements (they are telling city workers in Los Angeles that they have the right to change unions, cannot get in trouble for it and that their contract will stay the same, the opposite of what they are telling SMMC workers) Hal turned red and tried wiggle and squirm his way out of answering. But the only response Hal and Flannery could come up with to these questions and concerns was: "Don't you want us to negotiate the best retirement for you?" i think our informational picket will answer this question with a loud, responding Hell No!
About 20 minutes later, Carolyne walked into the vending machine room we were using to hold our vote looking to buy a soda. I guess SEIU wasn't kidding about having shadows, Carolyne was accompanied by that Sandra woman to buy her soda. Guess they didn't want her breaking down and recanting her scab oath. About 20 minutes after that, Carolyne returned to our room with a camera and when asked what she was doing, she said, "I am taking a picture of the ballot box." Funny though because Carolyne then began asking us in the room to pose for the picture. Flustered by us questioning what she was doing and after supposedly taking a picture (although i honestly think she didn't take one because there was no flash), she left.
10 minutes later she returned with the camera. By pure coincidence (for realz), my fellow volunteer and i were standing by the door. She once again instructed us to get together for a picture but we told her she had no permission to take our picture and when asked why she was taking a picture she responded "for old times sake." At that point Will Brennen (kick ass NUHW leader and fired Olympia steward), who was helping out, told Carolyne "What are you doing Carolyne, you will not take a picture." Once again flustered, Carolyne just went away.

To close this day up, how do we know that no workers attended the SEIU meeting? Because another steward was walking through the lobby when Hal, Flannery and Bobby were leaving. She heard Hal ask Carolyne, "Were you able to get any workers to come to the meeting?" Her response: "no." At that point, maybe upset at his inability to respond to informed members and stewards, maybe upset at his face flushing red and not purple, Hal left in a huff.
Let's hope they take the hint and never come back again. Good Riddance."
And from another CHW hospital...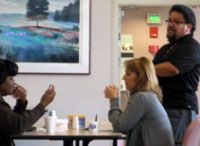 "This is what happened last week at a membership meeting that SEIU scheduled with HR directly without notifying stewards. 6 SEIU staff came for the meeting:
Hal Ruddick
,
Flannery Hauck
,
Roberto De La Cruz
,
Geri Harris
,
Carolyn Gilkey
, and
Sandra Trockel
(now officially SEIU staff). The meeting started at 7am but most of the day SEIU reps were seen sitting in the cafeteria looking really bored. When they thought finally some members were interested in their lies, it turned out to be just NUHW stewards coming to the meeting one after another to ask SEIU questions they couldn't answer! Stewards told SEIU that members don't like liars and thieves, and that no member wanted to come to their meetings, so they should just pack up and leave now.
One steward asked Roberto "How can Annelle Grajeda and Rickman Jackson continue to work for SEIU after serious allegations of misspending member's dues money?" Roberto said "Rickman doesn't work for SEIU anymore." Our member said "Yes, he works for SEIU in Canada." The naïve Bobby said "I don't know anything about Canada."
Sandra Trockel, who was a member but now works for SEIU, doesn't like to have her picture taken. Every time she sensed a camera, she turned or covered her face with something. Maybe deep inside Sandra knows turning into a scab is not something to be proud of."