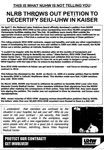 Because it's one thing to get management involved with your campaign to silence workers, but it's another thing to put a manager on a flyer, and it's another thing entirely to put a manager on a flyer without her knowledge!
This flyer distributed by Zombie UHW at Watsonville Community Hospital this week has a quote from Guen Artman at Sierra Vista Medical Center. Guen was on the original organizing committee for the facility, and she was the chief steward there for a couple of years.
But for the past three years, Guen has been in management at Sierra Vista! She is NOT in the bargaining unit, is NOT a member of UHW, did not (says Perez's source) authorize this photo or quote!

So what's the story, guys? who's next for an unauthorized cameo? Someone who died perhaps? Chicago election style.