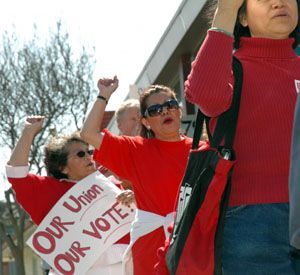 The county announced last night that they're beginning the process of holding an election so 10,000 homecare workers can vote to escape Zombie UHW.
After filing their petition at the start of March, and after weeks of
protesting SEIU's attacks and lies
, Fresno County homecare workers are celebrating!
SEIU issued a rushed emergency smear blast today, and will probably pull out their lawyers and money again, but even Andy Stern admitted in the Zombie UHW all-staff meeting on Tuesday that there would be an election in Fresno.
Some readers are calling it "Fresyes!", but Perez might prefer "Fresnoloo"...