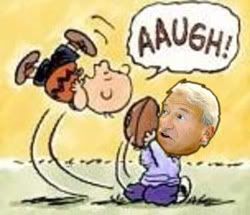 SHOCKING NEWS! Andy Stern gets his name in the paper and undercuts the rest of the labor movement by being the first to cave in to Corporate America on a critical issue for working people.

What's shocking about that? That there's anyone left in the labor movement who will let this guy play ball with them!
It's increasingly clear that we might not get the EFCA we need right now (SEIU's corruption scandals haven't helped), and Perez has been hearing for a while that SEIU's semi-public back up plan is five-day NLRB elections (so what's the private plan?). But going to the press with this is just Stern doing what he always does, presenting himself and SEIU as the "business-friendly" and "21st Century" alternative to the rest of the labor movement, all those crazy, angry workers, and dinosaur leaders.
-----
Stern Considers Alternatives to EFCA
By Alec MacGillis
As key senators have announced that they are not planning to support the Employee Free Choice Act, labor leaders put on a brave face, saying they have every intention of finding the needed 60 votes and that it is premature to start talking about alternatives to the bill.
But in an interview today, Andy Stern, head of the influential Service Employees International Union, stepped gently away from that unified front, raising the prospect of reforms that would overhaul union elections without giving workers the option of organizing sans secret ballot elections...
Read article at the Washington Post.