Report from a reader leaves no doubt at all about SEIU's priorities...
"Hot on the heels of their sellout of Alameda Hospital workers, where UHW members will now have to pay for their health insurance for the first time in decades, SEIU is hitting a new low at the Daughters of Charity facilities.
This week, the attached bargaining survey began showing up in DOCHS facilities. Of particular note is the "One Contract Covering the 5 DoC Facilities" section, in which workers are asked to check a box if "Add management rights clause to the contract" is "most important to you for this contract".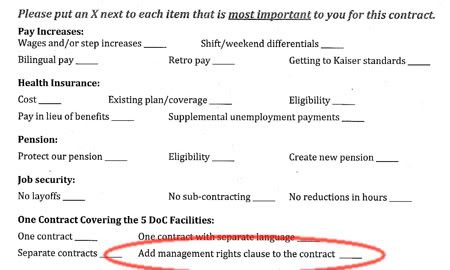 It's shocking enough that a Union would be asking people if they wanted to have a management's rights clause (which essentially gives the boss carte blanche to run roughshod over workers in the facility).
But what's even more egregious is that in October 2008, after multiple strikes over this & other outstanding issues in bargaining, the Daughters of Charity themselves dropped their proposal to add a management's rights clause at the facilities that don't currently have one!
This isn't SEIU preparing to accept a management takeaway proposal... it's SEIU preparing to offer management a giveaway proposal!"