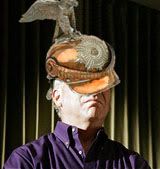 Last week's big Californiraq news was the NLRB ruling that Kaiser workers are probably stuck with SEIU for another year.
Proving again that SEIU has lost all sense of how they look to the outside world, they were tripping all over themselves to spread the news.
After rushing to distribute a flyer the same day the NLRB ruled, they sent one of the smuggest emails Perez has ever seen to every address they could find. Some staff and members got the announcement three times or more, Perez wonders if SEIU sent it to their EFCA email lists too?
Of course, bragging about this NLRB ruling is a little like bragging that your wife hasn't left you yet because you hid her car keys.
Every new SEIU organizer learns on the first day of training that the NLRB is an anti-worker politically-controlled bureaucracy that can never be relied upon for justice. But now SEIU are asking those same staff, members, and the rest of the labor movement to believe that this time, an NLRB decision against the demonstrated wishes of the majority of Kaiser workers is a "victory for workers."
Which "workers"? If by "workers" you mean actual people with families, jobs, and opinions, then no workers, since no actual workers took part in SEIU's appeal to the NLRB process. But in Andy Stern's bubble, SEIU "Workers™" are more of a substance, something like purple play-doh that can be twisted into whatever shape is convenient, and used to plug any holes in an argument, regardless of what any actual workers might say!
And the ruling? It might get overturned, or it might not. Meanwhile, Kaiser workers keep building their own union, for reasons proven to any undecided coworkers with every smug email, threatening robocall and desperate house visit.
Some Kaiser workers have said to Perez that a year isn't a long time. Perez thinks it depends who you ask. It's going to seem like a very, very long time to the Zombie UHW Kaiser Division staff, who are hated and outnumbered 1,000-to-1 by some of the smartest and best-organized workers in the labor movement!