A meeting at Kaiser Stockton this week ended with members calling 911 after SEIU decided to try some Labor Notes conference style invasion tactics!

Here are two reports from the scene...
"We had a membership scheduled for 12:30-1:30 on our patio. Around 11:30am I was leaving out the front entrance of Kaiser when I saw
Sam (Ogren)
,
Mary (Grillo?)
,
Vicki
, another SEIU Rep and
Juanita
all standing there talking.
I told Jeff to send out a text blast to alert everyone that SEIU was in the building. I went back inside and got my co worker Roxana and told her to walk with me to the other departments so we can warn the members.
At 12:30 I asked security to have someone come up and stand by the patio door because I didn't want Sam and his people to come in on our meeting, she told me she would get someone there.
When I began to go to the patio I saw all of the SEIU Reps, and Lost Timers there, it was about 6-7 of them. As soon as Jeff opened the door the Reps just walked in. Now here's where it all begins....
All of our members were standing in the hallway waiting for me, so we all walked in and Jeff asked SEIU to leave! The Lost Timer from Hayward said, "We ain't goin nowhere we have a right to be here too!!" Jeff said, No YOU DON'T!!"
I told Sam "Can you please get your people and ask them to leave before it gets ugly!!" He said, "Ok Ok!! Let me talk to them." I said "You need to go now!! We work here! This is our House and you guys are not going to come in here and tell us NOTHING!!"
Our EVS worker Albert, got in the Lost Timer's face just really going off on him. The two were really going at it!!
We starting chanting N-U-H-W!!!!!
Next there was security everywhere the SPD was called, the AMGA and managers were all out in the hallway. They told the Reps that they had to leave our meeting and go into the cafeteria and to leave us alone.
Jeff got scratched on his wrist by Sam and is pressing charges now. Ixchell was pushed by one of them and is pressing charges as well. SPD is here at the facility now.
While security was talking to the Reps in the hallway with management I went over to the members and lead our meeting, gave out fliers, answered all their questions.
It started off heated but we ended UNITED!!!!!"
And...
"In case you haven't heard, our very own SEIU/UHW shop steward from Hayward EVS,
Ron Mallory
has now become a professional boxer! During a peaceful lunch meeting with Stockton members and staff from NUHW, members were treated to a ring side boxing match!
The three SEIU GOON PLATOON,
Sam Ogren
,
Carolyn Brading
, and Ron Mallory decided to interrupt their meeting.
When members asked them to leave, Ron Mallory (510) 717-4810) got into several women's faces, telling them to "f--k off", "you are a stupid idiot", and "f--k all of you". He also proceeded to put his hands on people and the police were called. Police reports have been filed with the Stockton PD and Kaiser admin has been informed of the matter.
So if you have any upcoming ring matches, call Ronny!"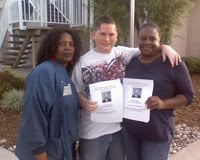 That's not quite the end of the story! Sick of having him come to their house, workers leafleted the Cal Expo Residence Inn, Sam Ogren's hotel on Thursday night.