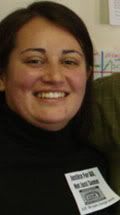 UUR Chief Steward Sarah Solis has been suspended without pay (even
Tyrone Freeman
got pay!) by SEIU management, ostensibly for talking to members about the layoffs and SEIU's refusal to bargain in good faith.
Talking to members about SEIU's staff-union-busting is a years old taboo at SEIU, a little bit like working at a fast food restaurant and letting customers know that the burgers are made of ground up feet and anuses.
But of course management themselves said that the layoffs were approved by delegates at the 2008 convention, and that's what
Michelle Ringuette
has been telling the media too.
Sarah's suspension is an obvious intimidation tactic, and it doesn't seem to be working. UUR members are wearing stickers with a picture of Sarah, and are emailing management to call for her immediate reinstatement and an end to the union-busting.
-----------
From:
UUR unionofunionreps@gmail.com
Subject:
We Stand With Sarah!
To:
unionofunionreps@gmail.com
Date:
Friday, April 3, 2009, 8:57 AM
Several UUR members have given us permission to share their emails to Judith and Michelle with everyone. Below are some of the many emails that have been sent so far demanding that SEIU management bring Sarah back, stop the layoffs, and start bargaining in good faith.
We will continue wearing stickers in support of Sarah and sending these emails to Judith and Michelle at
Judith.McCullough@seiu.org
and
Michelle.Healy@seiu.org
, the people ultimately responsible for Sarah's suspension, until SEIU does the right thing. Don't forget to CC-unionofunionreps@gmail.com, your co-workers, and anyone else you think needs to hear about this, and sign your letter "Stronger Together".
UUR
-----------
If you too believe that SEIU shouldn't be attacking workers like the worst kind of boss, Perez is sure UUR members would welcome your emails to Judith McCullough and Michelle Healy.