Perez hears that SEIU staff in San Diego picketed the home of their boss, appointed Local 221 President
Sharon Francis-Moore
last Friday night. Apparently she's been trying to take advantage of exceptions for smaller employers in labor laws like
FMLA
to take leave away from local union staff.
Rumor is she's also she's been using dues money for use of a limo and other celebrity trappings, and was in Martha's Vineyard a couple of weeks ago looking to buy a vacation home.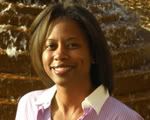 Francis-Moore makes about $125,000 a year, and has the dubious honor of being
"The first president of an SEIU local to come from outside the organization."
The story goes that Stern met her at a party in New York, and thought she'd just make a fabulous local president.
Perez wonders if she's finding SEIU a big change from running an organization that
"focuses on revitalizing the retail stores in Tribeca"
and runs
speed dating events
?
"The organization's goal, said president Sharon Francis-Moore, has always been to bring people Downtown."
This latest comes on top of the
string
of
charges
filed against Francis-Moore by
members
last year. What a surprise that yet anther Frankenstein local is having problems!