Fed up with SEIU's bullying tactics, assaults on members, collaboration with the boss, and backdoor dealings, members at Kaiser Stockton took it to the streets on Wednesday!
Members picketed and leafleted the hospital from 7am until about 5pm. More than half the employees on shift came out and spent their entire lunch on the picket line. Here they are protesting Kaiser and SEIU's collusion...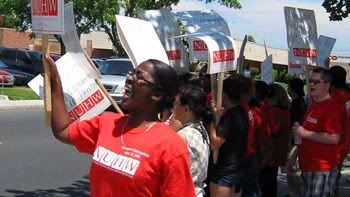 And where was Zombie UHW Rep
Mary Henegan
? Inside the hospital stripping NUHW documents off the bulletin boards, asking HR to "get members under control." and hoping the director of security liked the gift basket she sent! Here she is in the cafeteria with Medical Group Administrator Jose Rivera...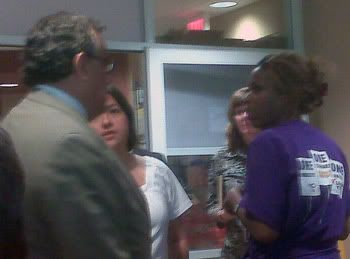 In
this great article
about the pickets, Kaiser spokesman Rob Veneski is quoted as saying,
"NUHW does not represent any Kaiser Permanente employees, and it appears that the activity (Wednesday in Stockton) is part of a dispute between NUHW and SEIU-UHW, a union that represents more than 50,000 KP employees in California."
Sounds real neutral to Perez!
In response to the same article, a Stockton worker writes...
The picket that took place at Kaiser Stockton yesterday was against Kaiser Permanente and the unfair treatment displayed by Kaiser Management towards NUHW activists, violating our basic rights guaranteed by Federal Law; although there is a very clear dispute between NUHW and SEIU, yesterday's action was to let Kaiser know that WE ARE THE UNION, regardless of which union they recognize!

Kaiser workers stood in solidarity to show the boss that they must respect our rights and they better look up the definition of neutrality in the dictionary because I have experienced first hand harassment and discrimination in the workplace because of my choice to support NUHW; the NLRA guarantees me the right to organize the union of my choice regardless of whether it is recognized by the employer or not. Of course a statement supplied by Kaiser is that they are remaining neutral, this is a farce - otherwise we would not have been forced to take action yesterday!

Since the trusteeship of SEIU-UHW on 1/27/09, Kaiser Permanente has welcomed the new SEIU-UHW leadership with open arms and why wouldn't they, when SEIU has proven time and time again that they are a corporate union that sides with the boss rather than standing up and fighting for the workers who pay SEIU's salary! Prime example - SEIU-UHW field representative, Mary Henagan, sent a gift basket to the director of security at Kaiser Permanente prior to yesterday's picket, thanking her for her continued protection from the members!!! This gift basket was purchased with MY DUES DOLLARS!!!

SEIU is a union that makes back door deals with the boss on the backs of the workers who pay their salary - they have already begun bargaining away portions of the contract that Kaiser Workers fought so hard to win and that once set the standard in the industry! It is my choice to support NUHW a member driven and democratic union and there will come a day when Kaiser Workers will be allowed to vote to decertify SEIU and join NUHW, what will those SEIU employees who are squandering my dues dollars do then? Until that day, we will continue to take action against Kaiser Permanente until they truly adhere to the definition of neutrality and stop interfering in union business!