The UNITE HERE convention kicked off yesterday, with labor leaders telling delegates what they really think!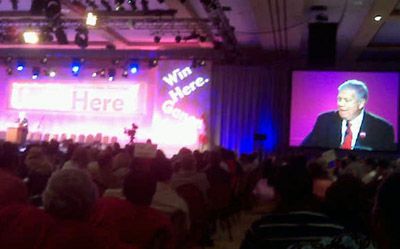 (Picture by a reader)
"The raider is known to some as Darth Vader of the Labor Movement"
-Vince Giblin, President of the Operating Engineers (who referred to Stern as Vader 36 times)
"For another union to come onto your turf and take advantage of what you've built, that is piracy on the seas of organized labor."... "What SEIU is doing is bullshit!"
-Gerry McEntee, President of AFSCME (Who then led a chant of "Bullshit!" from the crowd!)
"What happens in this fight WE have with SEIU will determine what kind of labor movement we have. When someone comes after UNITE HERE, they come after the Laborers."... "We didn't join Change to Win to raid and hijack another union's members."
-Terry O'Sullivan, President of LIUNA
"A two headed fight: a fight with the boss and a fight with the boss's lackey union."
- John Wilhelm, President of UNITE HERE
SEIU meanwhile sent a truck to circle the convention center sadly with a sign saying "Binding Arbitration Now!"

Perez thinks they just got their "binding arbitration"!