Scabs get flustered when members speak up!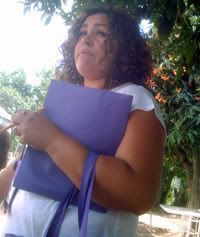 "So I went on a house visit with NUHW member leader Norma Raya. When we got there Senior Scab
Lorena Vellanoweth
(left) was outside the house talking to Elizabeth, the homecare worker. Norma and I said hi to Elizabeth and asked her if she had already voted. Lorena jumped in and said "If you vote for them, you'll lose your contract." Norma told her that homecare workers won't, and that she should know since she was actually on the bargaining committee.
Lorena contradicted her - "How do I know you're not lying, do you have a contract?" Norma then pulled out her copy of the contract, pointing to her signature, Flo Furlow's signature, and Sal Rosselli's. "If we stay with SEIU, we'll be sent to Local 6434 in LA, where they make $9/hr."
Norma then gave Elizabeth the rundown on the arbitration where SEIU proposed wage cuts for Fresno homecare workers. Lorena argued back "I don't know if that's true, I wasn't there". Norma says "Exactly, that's the problem! Where were you when I was getting locked out of my own arbitration?"
Norma then told Elizabeth about all the money that SEIU was spending on flights, hotels, and rental cars for staffers. Lorena said that she doesn't drive a rental car - which is true, since she drives a deep RED (!) Envoy.
Lorena also claimed to have been a UHW member for 12 years, which is crazy since her hospital was actually organized in 2001 and she was hired on as staff before the election.
Norma came back with "Well i'm still a member, and I'm leaving SEIU for NUHW, and 10,000 homecare workers are coming with me. I pay your salary, so why don't you stand over there and let me have a member-to-member conversation?" Lorena said she was trying to have a conversation with "her" member.
This is where it gets good. I eventually said this wasn't getting anywhere, and that we were here to talk to Elizabeth. - Lorena got all flustered and started yelling "Who's Elizabeth? There's no one named Elizabeth here!" The homecare worker, who had been sitting on her lawn chair the whole time, raised her hand and said "Ummm, I'm Elizabeth!!!" You don't even know the name of the worker you're visiting? Awesome. Lorena just got red in the face and made weird hand gestures while she was holding piles of t-shirts and visors and other random SEIU gear, looking like she was selling stuff at a baseball stadium.
I told Lorena we'll just wait for her to finish her "conversation" with this unnamed worker. Good luck!"
NUHW volunteer and former SEIU member.