This email from an NUHW volunteer and former Kaiser employee to Kaiser Permanente labor relations gives a pretty good snapshot of Zombie UHW's M.O. there these days. It's not very subtle, and it's not very smart!
-----
From:
Kathy Baca
Subject:
Bellflower July 21, 2009 incident
To:
Arlene Peasnall
Cc:
Cristina A Saucedo-Garcia
Date:
Wednesday, July 22, 2009, 8:15 PM
Arlene, Christina
As a former Kaiser Employee of 34 years and a member of Local 399 and UHW I have never in all those years experienced the unprofessionalism of Union Staff that I experienced last night at Bellflower. When I was employed by UHW we were required to be respectful and professional in the workplace.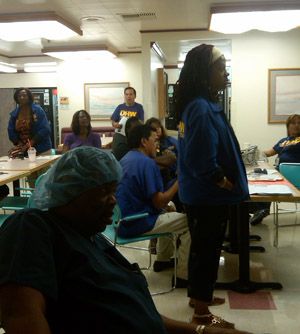 On Tuesday July 21, 2009 I was sitting with a few members having dinner in the cafeteria when approximately 25 SEIU members/staff/contract specialist entered the cafeteria, they all proceeded to sit down and mock us. Their behavior was that of aggression, and intimidation. This is a behavior that has been allowed by Kaiser at all facilities, UHW has cart blanche when it comes to being in the workplace in pacts causing disruption not only in the cafeteria but in patient care areas.
I asked one of the security guards if H.R. had been contacted as that is what SEIU-UHW Reps usually do when I or NUHW supporters are gathered,
John Rochin
replied, " I have a good relationship with H.R. and I already called them." My understanding was that Christina was on vacation but the Reps have the numbers for the other H.R. Consultants and did not call them, if they had I know H.R. would have been present as they always have in the past. It was evident that
Jesse Smith
and the other Staff Reps did not want H.R. present to see the harassment, intimidation and fear tactics that they were using.
John Rochin started yelling at me, and one of the members sitting with us (Eleanor Mendoza) got up and told John to stop yelling and then verbally started to attack her, we asked her to please sit down and not allow herself to be baited by them, she was so upset that he would verbally attack a woman. Jesse Smith not once ever tried to intervene and stop John Rochin. As a matter of fact he never attempted to control any of the staff or members. As a result Eleanor Mendoza, ended up in the E.R. last evening with numbness in her face and arm, the doctor said she was having an anxiety/panic attack. this member has her documentation from the doctor and filed a complaint with security.
As we gathered our food to leave John Rochin started yelling to the members, Losers, Losers,
Terry Fernandez
ran up to us and put her chest up to us waving her UHW t-shirt in our faces, the security guard asked her to step back, then all the SEIU-UHW starting singing we are the union, and shouting we are SEIU, there were food service members in the cafeteria having their dinner, and patient family members sitting in the cafeteria eating as well.
Also, a lost time member from Sunset (nickname
Tree
) stood in front of a member who is now working as a volunteer for NUHW and said to him " You better not be talking shit, and then proceeded to say to him I am going to kick your ass". This member (Tree) was pacing in front of our table the whole time that we were in the cafeteria. Again, intimidating and fear tactics.
As we were leaving Tree came up to my face, his whole body hovering over me, with maybe an inch in-between us and would not move, I asked security to please have him move but security would not, he just kept nodding his head saying to me okay. This member is over 6ft tall vs my 5ft, he was using it to cause fear and intimidation.
It got so loud in the cafeteria that an evening shift supervisor Pat Villanueva (I believe that is her last name) came into the eating area and asked to keep it low, which of course did not happen but only got louder, especially when we gathered our food to leave, One of the lost timers (
Geanice Richardson
) ran up to the supervisor to hand her flyer's, and I made a comment, she is a supervisor not a union employee, Pat Villanueva turned around and responded to me, I can take it and read it, (so much for neutrality).
after we left a security guard escorted Eleanor to the security office to file a complaint, when Eleanor was leaving the security office
Elma Maynard
, and
Erika Gutierrez
were standing across from the security office with members in the parking structure and the members started yelling that Sal Roselli is a "faggot", Elma or Erika did not ask them to stop.
I am sending this to inform you that all members, or anyone on Kaiser premises be protected from harm and harassment, and if any member/person should be attacked, intimidated, threatened or harmed we will hold Kaiser responsible. Kaiser security is there to protect all.
By the way, I sent an e-mail to you in March regarding the behavior on Kaiser premises at a membership meeting regarding the behavior of
Tinesha Thomas
that has not been addressed . Yet, when a member files a corporate compliance complaint that is addressed immediately. Seems disparate to me.
I have listed below the names of people that I recognized. Also attached are some photos that were taken and I will send you a video as well when I get it.
Respectfully submitted,
Kathy Baca
NUHW Volunteer
UHW Reps that were present:
Jesse Smith
- Director
John Rochin
- Bellflower
Elma Maynard
- Baldwin Park
Erika Gutierrez
- Bellflower
Terry Fernandez
- Sunset
Ernesto Rodriguez
- Panorama City
Kristy Correll
- OC
Contract Specialists;
Nancy StengelSylvia FavaronBrenda TippinsEdna Clayton
Lost-timers/members
Darrell Jerome
- Orange County
Mary Corson
- Panorama City
Marguerita
? - Regional
Gloria Moller
- Baldwin Park
Genice Richardson
- Bellflower Satellite
Tinesha Thomas
- Bellflower
Others who I do not know