Remember that Public Sector meeting we were talking about? Well, no word yet on the details of the new dues increase, but here's a report from a reader on the rest of the thing...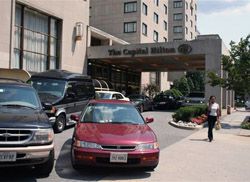 "So... the conference was interesting to say the least...
Annelle Grajeda
's speaking time was kept to a minimum. Someone really clamped down on her ability to be seen at the podium.
Burger
and
Stern
made their appearances (hat waving, Yankees coach-style.) But the room was really... I dunno. I mean,
Bruce Boccardy from 888
was there and had to be in groups with folks from 1021, 721, etc. There was a concerted effort to keep people penned and "on message" but you can't stop people from talking to one another.
I watched this kid from Local 500 during mealtime try and talk up 888's work in getting a new executive board off the ground, and saw the laser-like eyes bore into him from other people at the table! Interesting how we're all about love and celebrating during the "conference" but yet you can't even mention the "past".
And then there was a weird moment where they held a kind of emergency meeting with some upper level staff about the situation with UNITE HERE, specifically about a deal being reached!"