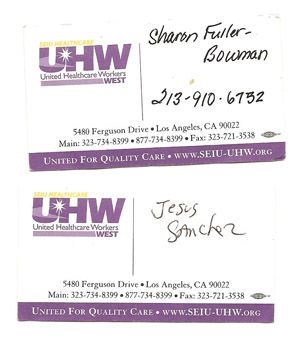 Last week SEIU organizers were handing out their business cards to workers as they toured USC University Hospital. Take a look at the cards, and fill in the blanks! Is SEIU just giving up on ever having permanent staff at Zombie UHW?
It sure looks like it! As well as the high turnover, there's the fact that as SEIU's BS blocking charges get closer to being thrown out by the NLRB, SEIU are sending anything with a pulse to Californiraq. Expect to see many more like
Sharon Fuller-Bowman
, an international staffer.
But does anyone know who
Jesus Sanchez
is? He seems to have caught on to the SEIU style, and won't even give up his work phone number on his business card... after all, why would he want to be bothered by actual calls from members?