Perez hears that SEIU scabs
Sam Ogren
and
Ron Smith
got an A for effort and an F for achievement at Marian Medical Center yesterday afternoon!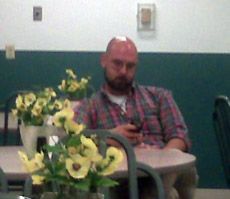 First, an NUHW supporter got a concerned phone call from the head of HR, who said she had heard there would be a big action in front of the hospital that day. Thing is, that was news to the NUHW supporter and her coworkers - no action was planned. So where did the story apparently come from? It came from old Perez favorite Sam Ogren!
Then later on that day, Sam and co-scab Ron tried to confront NUHW stewards meeting in the cafeteria. While Ron ran to let HR know, a red-faced Sam took a seat and got busy with his Blackberry (see left)!
Sorry you wasted your time Sam! The stewards were meeting to plan a trip to Vegas, as the HR staff Ron brought down to investigate told you!
(And you're not invited!)