Andy Stern, Mary Kay Henry, Anna Burger, Dave Regan, Eliseo Medina, Leon Chow, Steve Trossman, Rebecca Malberg, and SEIU* continued their federal lawsuit dramedy on Friday, as reported by readers...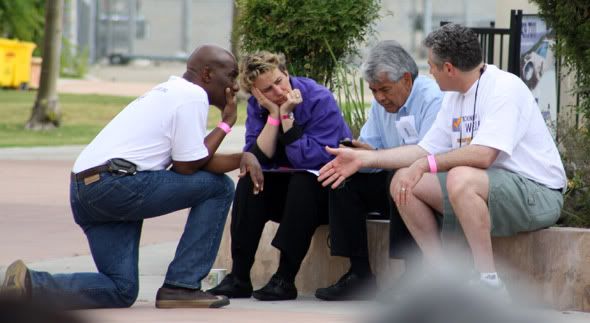 It's abundantly clear that this was (and still is) a real no-expense-spared trusteeship. Why bother taking bids from security companies to get the best deal, when Kaiser members' dues will cover it all in a month? Fly staff in from across the country? Put even the local staff in hotels? No problem, members will pick up the tab! And the same goes for this lawsuit, which is costing at least twice the damages SEIU are demanding. After all, it would be stupid to pinch pennies now, when losing the big Kaiser unit would cost SEIU a billion dollars over the next twenty years.Leon Chow
got more interesting under cross examination on Friday, as he stepped up his "just following orders" act and pretended not to know where the slogan "Yes we can!" originated. It's actually hard to tell how much real agency Chow had in planning for the trusteeship - even Perez can't decide whether he was the second-in-command top official and leader the defendants' lawyers argue he was, or the confused idiot he tries to paint himself as. What
is
clear is that (as NUHW's lawyers say) if he hadn't run scabbing back to SEIU, Chow would be sitting with the defendants. One last thing about Leon Chow: both sides agree that he's a key witness, as the plaintiffs argue he proves the defendants plotted illegally, and the defendants counter that as a central player in the efforts to resist SEIU, Chow never saw any evidence that a new union was being formed before the trusteeship went into effect.
Then came
Eliseo Medina
himself, to describe how he was appointed the "external relations" trustee (bad choice) and claim that he was just sent to California to collect information and make sure that all grievances and arbitration were up to date! Perez hears he seemed nervous on the stand - a reader describes how he turned his head in one direction and then another, as if trying to look in control! One of SEIU's lawyers ("the dark haired one") apparently has a flair for the cutesy, and tried it with Eliseo, asking whether locals 6434 and 521 had "a smile or a frown" about the jurisdiction decision, irritating the judge. Overall, Eliseo's testimony mostly just made it abundantly clear that the trusteeship was a done deal way in advance.
And then the court got on to the security cost charges. Supposed to be a big shocker, Perez hears they melted away like a snowman (a straw-man?) in the sun...
Confidential Administrative Assistant (that means she works for management and isn't a member of the staff union)
Rashida Anthony
did a decent job, but her part was overwritten, and just not supported by the material. It's clear that it was pretty stressful to work in SEIU's secret Alameda office before the trusteeship, but SEIU's lawyers just pushed it all too far, especially given that no one was hurt, nothing was damaged, and no charges were filed in the scuffle Anthony described. Readers say the lawyers repeatedly asked Anthony about "her little daughters", until the judge scoffed that it was too much, and that they tried to put a strange and uncomfortable spin on her testimony that had some weird racial and sexual overtones.
Perez thinks the defendants lawyers should be asking why SEIU hired such crappy security along with why they hired so much! What kind of a former secret service agent curls up into "the fetal position" (as emphasized repeatedly by Anthony), or is left "shaken and scared" when thirty (mostly middle-aged women) health care workers hold a protest in an office? Well, most likely they ended up with such an ineffective team (so ineffective SEIU were
withholding payment
, remember?), because they just threw some money at
Jerry Bullock
and told him they wanted what the
real
corporations have...
Bullock reportedly seemed like a decent enough guy when he took the stand Friday, but he didn't do well as the expert witness SEIU wanted to use him as. Under cross examination he revealed that he is actually the only employee of his (previously) impressive sounding "Bullock and Associates", and provides security services by sub contracting to other companies like the OSO Group. Of course, he also stands to make a lot of money from a successful SEIU lawsuit. Bullock could only remember a few "threatening incidents", almost none in the crucial period before the trusteeship, and the only records he kept of them were emails to SEIU staff. One of the incidents he described was a break-in to cars belonging to SEIU staff when the cars were parked at a hotel for the night. What was stolen? GPS devices and clothing. Left behind? Files and lists! Another "threatening incident" was the time someone allegedly drove past
Mary Kay Henry
's San Fransisco home and took pictures - in response Bullock and OSO Group provided round the clock personal protection for Henry and her partner through May 2009.
More than one reader was grateful to Bullock however, for the trip down memory lane his testimony provided. Perez himself clearly remembers the paranoia dripping from SEIU in spring 2009, the sense that they expected
anything
to happen, and were prepared to do
anything
in return. One reader described a juror as "visibly moved" on hearing the extreme measures SEIU took by hiring a security company (OSO) that specializes in "counter intelligence, asset searches, and investigations". Bullock reportedly looked sheepish as he described how one night he thought he was being menaced by someone in a van with a "firearm", but it actually turned out to be a video camera. Heady days, but
so
expensive!
The day ended (as they increasingly do) with Judge Alsup asking SEIU to explain just exactly what their legal argument is supposed to be. But of course, this isn't a real trial, it's a play about a trial - written by SEIU, and acted poorly by paid SEIU staff cast into insultingly corny roles. It's not about the truth, it's SEIU's chance to recite every slur and accusation they've made in the past year, and brand it all with the "Federal Court" seal of legitimacy. Anything any witness says can be spun in a flyer as "It was revealed in Federal Court that..." See how it works?
Well that's enough fun for Friday. The trial resumes Monday, when Perez hears SEIU will be bringing the crazy more than ever!
------
*Dear fellow union democracy bloggers. Please join me in using the full names of SEIU staff and bosses at the beginning of posts for the benefit of Google indexing.